In an emergency, what would you take with you? This question is often posed as philosophical, an effort to demonstrate that our stuff really isn't that important after all. While that's true, there are many things we would find helpful during and after an emergency, and that's why it's important to have a bag ready to go.
Here in North Carolina, we are used to preparing for hurricanes. But thanks to technology, we typically know in advance. Some emergencies are much faster, such as a house fire or tornado or flash flood.
In those cases, do you know what important documents you need? Can you find them quickly? Are they portable? Or can you access them from another location? Be prepared with these three options so you have what you need in an emergency:
Options for an Emergency Bag
1 – Buy a LifeinCase.
This is a commercial product that keeps all your important documents in one place. The system is a grab-n-go plastic case with waterproof folders that contain instructions and places for all of the important information you will need in case of a disaster.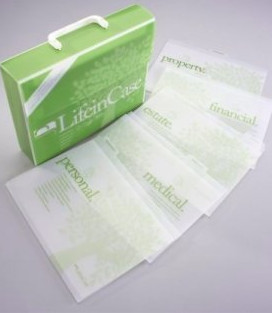 2 – Create your own.
If you prefer to create your own emergency kit, here are the documents to gather and information you may need: 
Family Communications Plan.
Important Contacts such as accountant, attorney, banker, physicians, insurance company, pharmacy, etc. as well as friends and family. These days, it's easy to save numbers in your cell phone, but if cell service is down, it will be handy to have numbers listed on paper so you can call from a landline.
Identification documents such as birth certificate, driver's license, passport, marriage certificate, etc.
Pet Records.
Valuables and collectibles, including pictures and appraisals.
Medical records including allergies, medications, and current health conditions.
Statements encompassing bank, credit card, loans, financial holdings, etc.
Home records such as mortgage or rental agreement.
Policies for all types of insurance.
End-of-life documentation including your Will, power of attorney documents, etc.
Tax records including the last three years of tax returns. You don't need the supporting documentation, just the forms sent to the IRS.
Computer passwords.
In some cases, you may not need the statements, but those often have account numbers listed on them, which is helpful.
Put all the documents inside a waterproof container. Add some emergency cash; if there isn't electricity, you won't be able to use a credit or debit card.
3 – Create an electronic version.
While the documentation list is the same, you might find it helpful to instead store it electronically. We recommend doing so in multiple ways: both on a form of portable media and in the cloud. Check out theLife@Hand Roamer version because the work's already done for you. That way you can access it using just a computer if the Internet is down or access it online if something happens to your portable media. But remember, having a backup piece of paper with at least a few phone numbers on it might come in handy. (See option 2.)
Need more information about organizing for a disaster? Download our FREE Disaster Preparation Resource Sheet. Not sure you'll take time to get organized for a disaster on your own? Contact us  and we'll be glad to help you. This is a case where you definitely don't want to be caught off-guard.